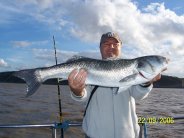 Scooby Doo Too was launched during May 2000 and entered full time service on the 16th. Constructed in the warehouse situated on the East Quay at Watchet she took 13 months to complete following delivery of hull mouldings during April 1999. See boat construction

Scooby Doo Too represents a level of investment and attention to detail that we believe you, the anglers of today, deserve. In short we have built a charter vessel of the highest standard incorporating safety, comfort, stability and space.
Scooby Doo Too is a new Bullet DS 38. She is powered by a single Scania DI9 six cylinder turbo charged diesel engine rated at 483 hp.

Her features are: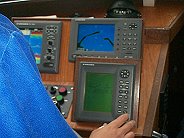 - A comfortable cabin with seating and wheelhouse extension providing shelter to all on board whilst steaming.
- A proper flushing WC in its own compartment accessed off the main deck.
- The latest Furuno and Raytheon navigation and fish detection equipment that gets the job done.
- A galley area with cooker, sink and running fresh water.
- Stainless steel safety rails from bow to stern.
- Sealed, self draining , uncluttered, level deck area with ample seating on engine box.
- 12" colour T.V. so you need not miss those important sporting moments.

Click here to Continue....